I know what you're thinking, "Another Mercedes? How many more can they possibly make?" Well, apparently, at least one more. Introducing the Mercedes-Benz CLE.
Mercedes is giving the old C- and E-Class coupes the boot and introducing the CLE as their successor. It's like when your favorite band breaks up and the lead singer goes solo. You're sad, but also kind of excited to see what they'll do next.
The CLE is set to make its big reveal in July ahead of the 2024 North America sales cycle, and it's bringing some serious style. Picture a long hood, a curvy roofline, and a rear end that's rounder than a peach emoji. I would love to see Mercedes use that as a tagline. And not get canceled.
Under the hood, we're looking at a range of engines, from a 2.0L 4-cylinder to a 3.0L 6-cylinder, all with 48V electrification and mild-hybrid properties. It's like a buffet of power options. And for those of you who like to have your electric cake and eat it too, there's also a plug-in hybrid model on the way.
This is Mercedes so of course the inside is all about luxury. The front seats offer substantial support and electric adjustment as standard. Here's a thought: why doesn't Herman Miller design Mercedes interiors as a special release?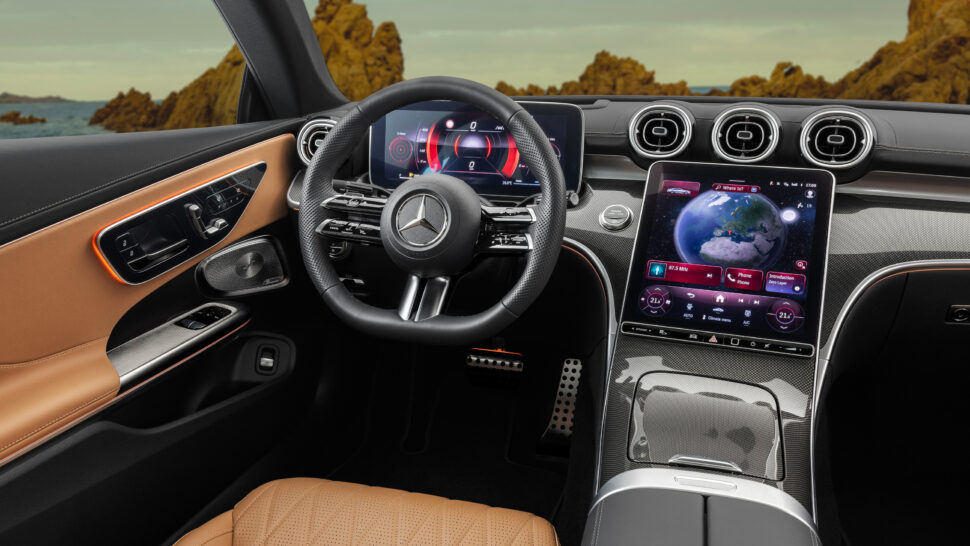 The dashboard borrows heavily from the latest C-Class sedan and wagon, because why mess with a good thing? The CLE will also offer optional rear steering and up to 2.5 degrees of rear steer angle.
As with any Mercedes release, the 2024 Mercedes-Benz CLE is a stylish, powerful, and agile addition to the Mercedes family. Mercedes is like the cool cousin who shows up at the family reunion and suddenly makes everything more interesting.